Main content starts here, tab to start navigating
Welcome to Caffe Aronne West Village, the premier destination for coffee lovers in the heart of New York City. Our cozy cafe is a place where people come together to relax, unwind, and enjoy delicious, natural, and nourishing food in a warm and casual atmosphere. We pride ourselves on sourcing the finest ingredients, including exceptional beans from South America, that are roasted to perfection to evoke the unique flavors of each region.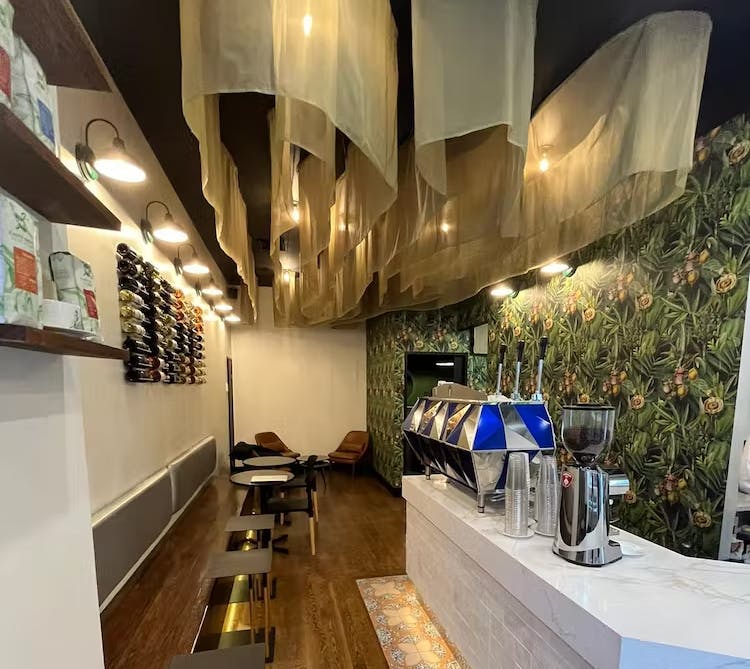 Our menu is designed to appeal to all tastes, offering a wide variety of specialty coffee drinks, pastries, teas, smoothies, and juices, all made with local ingredients. Whether you're looking for an energizing pick-me-up or a relaxing break from your day, Caffe Aronne is the perfect spot to find it. Our knowledgeable baristas are here to serve you with a smile and make sure your experience at Caffe Aronne is one of a kind.
At Caffe Aronne, we don't just serve the best cups of coffee, we make it our mission to source the very best beans and roast them in small batches to ensure the freshest and most flavorful coffee experience possible. Our coffee is fresh, bright, and packed with flavor, offering a first-class espresso experience. And, because we believe that coffee should be lovingly sourced, responsibly grown, and carefully roasted, we use organic beans in our authentic Italian espresso.
Love the taste of our coffee? Great! We're proud to offer a seasonal menu featuring our fresh housemade pastries, classic desserts, and gourmet baked goods, that will delight your taste buds. Come experience the inviting atmosphere and savor the flavors of our delicious menu items today! We're the top cafe in West Village and strive to provide the best coffee and service in town.